About FUPPPS l FUPPPS Chat l Letters to the Editor l FUPPPS Pet-ition l FUPPPS Store l Free NIPtuals Application l Contact Us
Visit FUPPPS' pals at InasPawprints.com -- books and goodies for animal lovers of all ages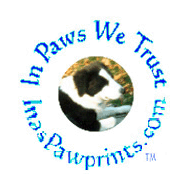 FUPPPS is a trademark of Ina Hillebrandt. FUPPPS logo by Carolyn Allen, SunshineByDesign.com.
FUPPPS and In Paws We Trust logos © Ina Hllebrandt. All rights reserved.
Animated graphics from AnimationFactory.com. May not be used without consent from AnimationFactory.com.
FUPPPS website © 2004 Ina Hillebrandt. Website Updated on whim. Latest update this page May 2023.