Pooch and Photo Credits below*

What is FUPPPS™?

In a nutshell, why should such a lovely NIPtual ceremony be limited to straight dogs (and other critters) only? Not to mention all the rights that go with muttrimony.

FUPPPS grew out of dissatisfaction among voters in Van Nuys, California, who became alarmed at the presidential contenders' reluctance to speak out on a subject vital to our times: same sex NIPtuals for pets.

The FUPPPS movement is gaining momentum all over the country, as veterinarians, pet food providers, pet store owners and pet licensing agencies have all joined forces with FUPPPS to demand our political leaders come forward with answers to the question, "Where do you stand on gay muttrimony?"

Before making your choice at the polls in future elections, you need to know that the candidate you back is committed to upholding this basic right for all our dear friends! With 612,453,023 pets in America, your voice adds strength to a sizeable voting bloc indeed!

We at FUPPPS.com invite you to join us in support of FUPPPS. Click below to sign the petition demanding that candidates present position papers so we know where they stand on this important issue!


FUPPPS members are planning a protest march in Washington. Click the button above to join FUPPPS and get updates on the march and other upcoming events.

No matter who you select for office, do get out and vote in all local and national elections!



The Question That Started it All!


*In the photo at the top of this page, Mr. Travis Theodore gives a wedding smooch to his bride, Raizel Dazzel deVine. Travis is a Jack Russell/mini schnauzer mix owned by Frank D (shown holding the groom) and Tammy O. Little Raizel Dazzle deVine is a 15 month old Brussels Griffon. Beryl Weiner and his bride Judy Bin-Nun, PhD, are the proud humans of the bride. Raizel is a certified therapy dog, working with Create-A-Smile at UCLA hospital and other Los Angeles area locations.

Create-A-Smile does just that -- creates a smile on the faces of young and old who are facing illness and other difficult life situations. We applaud the work of this wonderful group! For more wedding photos, click the button below:

Dr. Bin-Nun wants it to be known that this muttrimonial ceremony was performed among straight dogs. She echoes us in saying, why should such sanctioning only be made available to straights!

Note: Dr. B also wants it known that bride and groom have both been altered, in keeping with the importance of watching pet population growth.

We at FUPPPS.com have a further comment on spaying female pussycats: Please make every attempt to have the procedure done when your cat is from 6 months to one year old. Research has shown a connection between a particularly vicious form of cancer and later spaying in female pussycats.

FUPPPS Almost Daily Editorial Page
NEW!
FUPPPS STUFF!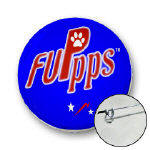 FUPPPS Archives
Complete list of FUPPPS Editorials
FUPPPS Endorsements
About FUPPPS
FUPPPS Chat
Read your own and others' chats in our Chat Room
Free download
NIPtual Application
SPREAD THE WORD

Tell a Friend