CATS TICKED AS MISSOURI POURS WATER ON SAME SEX NIPtual RIGHTS
St. Louis, MO, August 4, 2004: Today, a day that will live in infamy, Missourians banned same sex marriage.
"We cannot believe they would dampen our spirit, and our lives, this way!" Geraldo Catlette told us. "We have been working, living, eating and foraging side by side in dumpsters with these guys for years, and

suddenly, they turn their backs on us. Why, just last night, I was having a singalong with Peter Catabout. And this morning I find out he's supported the enemy. Who can you count on, if not your fence-ing buddies?"
Many in this thriving gay community of cats, dogs and other furry critters are having a hard time today, fighting a deep depression. "We just don't know where to go, what to do," Cynthia Chihuahua said, between sobs.
Mariah Murchison, a Pekinese in a darling pant suit by Caninetogs, put her paw around Cynthia's shoulders. "There, there, dear," she cooed, "We will sort this out. Just you wait! I talked to litter-ally jillions of cats and dogs today and they are all hopping mad. We're looking into joining with Monty Rattler, Chief Snake at Rattler, Boa and Finch. He's heading the legal battle. (see our May 21, 2004 editorial, Despite the Tea Parties, Trouble Brews in Boston). Are you with us? He told me it's a classy action -- and I figure that fits us to a T!"
Cynthia interrupted her crying long enough to ask, "Isn't 'class action' about people suing as a group, not about what socioeconomic level they represent?"
"What-ever!" Mariah snapped. "This isn't about wordsmithing. It's about our rights! Are you with us?"
"Ye-es, I guess so," Cynthia conceded. "It will be a good thing if we can overturn this backward step. Matilda and I were planning a Christmas wedding, and now....." Cynthia broke off, in a burst of tears. Several dogs and cats joined Mariah in comforting her.
The emotion we saw today heightens the message -- we must be ever vigilant. Let's all get out and call upon our local representatives to take a stand on same sex muttrimony. Make your bark heard. It's going to be a tough fight, but those of us who favor the rights of all to make a decision to wed the critter of choice, regardless of genus of gender, will have our day!
Help us! Call attention to our cause! Get FUPPPS brand new buttons, bumper stickers and other goodies today, for yourself and all your like-minded two- and four-legged friends. You can find them at our host's online store, in the FUPPPS aisle. Get yours now, and remember, let's get out that vote!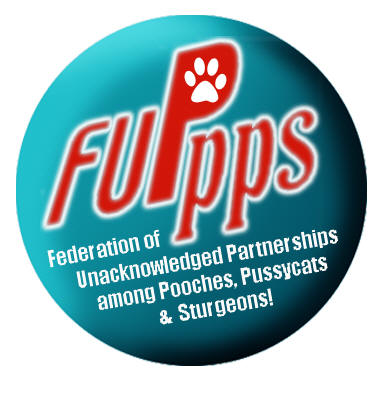 Approved by the FUPPPS Editorial Board