LET'S TAKE A LOOK AT THE NUMBERS
Van Nuys, CA, March 18, 2004: There have been all kinds of questions coming through our portals about exactly who has signed up for same sex NIPtuals among furry and other non-human folk. Below are the figures to date from California, February 11 through March 12 when the state's Supreme Court put a halt on the proceedings.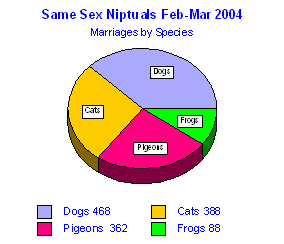 We are in the process of gathering data from other locations, and on other species. Keep checking this column for further de-tails.
And keep your eyes fixed on the future -- those favoring a resumption in ceremonies take heart -- it's happening (see yesterday's editorial below).
FUPPPS Editorial Board